Fast Movin' Train specializes in 80's, 90's, & early 2000's Real Country music. We pride ourselves on performing songs that you may have forgotten how much you loved. Of course we play the big songs but we also play some of the lesser known tracks from these artists that you will enjoy...
Wanna know what makes us tick? Check out our bios...
Greg  (Lead Vocals, Harmony Vocals, Lead guitar, Acoustic guitar...real life country boy)
Country music is my life.
It is in my soul and from my earliest days, all I can remember was wanting to stand on stage to play and sing. Born and raised in Corpus Christi, my older brothers taught me to play guitar starting at 6 years old.
At age 11, I played my first show opening for Johnny Rodriguez and have never stopped since.
There is probably no dance hall or dive bar I've not played in South or Central Texas at one time or another. My early influences were the best: George Jones, Roger Miller, Ray Price, Willie, Waylon, and Marty Robbins. What can I say?
My folks had good taste in music!
Growing up and working on the family farm, I had a lot of tractor time to listen, sing lead, and pick out harmonies.
At the same time my contemporaries were learning Van Halen and Steve Vai on guitar, I spent many of my days and nights practicing my guitar heroes like Steve Wariner, Ricky Skaggs, Ray Flacke, Albert Lee, Vince Gill, and later, Brent Mason.
Over the years, I've been blessed to play with some of the best musicians and friends that a person can have.
With FMT, we've all hit the jackpot with the perfect balance of great musicians and personalities.
So, get on board! We're driving!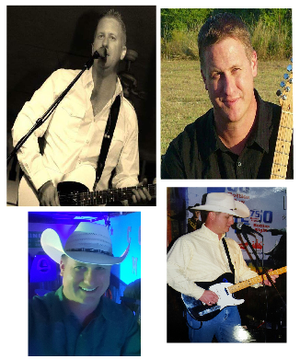 Gary  (Lead Vocals, Harmony Vocals...general pain in the ass)
I was born in Nashville Tennessee. The illegitimate son of the great George Jones and Patsy Cline (they kept their clandestine relationship secret this day). While still in the nursery, my three-part harmony cries were recorded for posterity and later used as a backing track for Garth Brooks' debut album. Later in my teen years I gave vocal lessons to Alan Jackson and Keith Urban which promptly launched their careers.
Okay, okay. In reality I was raised in Three Rivers, Texas where there is little more to do than listen to the radio. To this day I don't remember what started my fascination with singing. I just remember locking myself in my room for hours at a time singing into a broomstick microphone. While many of my musician friends spent their time woodshedding on guitar, I spent my time learning every vocal inflection and style of my favorite singers.
As a kid my biggest influences were George Strait, Steve Wariner, Gary Stewart, and Ronnie Milsap. Later I became obsessed with singers like Ronnie Dunn, Marty Roe, Raul Malo, Larry Stewart, and Terry McBride. Nowadays I am very big on Cody Johnson, Randy Rogers, and Wade Bowen. Although I love hearing hundreds of different types of singers I think it is safe to say there's not much Country music that I don't like...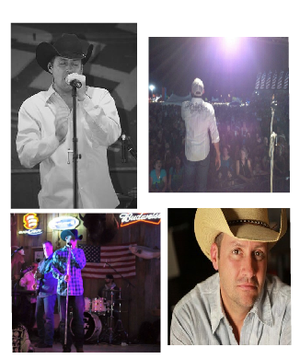 Drew  (Piano/Keys, Vocals, Harmony Vocals...pretty much a smartass)
Born in Pasadena Texas, home of the world famous Gilleys dance hall, music was in my "jeans". From my earliest recollections as a small child I was both playing and singing.  When I got in trouble I had to stay inside and I would play piano until my mother couldn't stand it anymore and made me go back outside.  In high school, I played drums in the band and electric guitar with my friends. Some of my fondest memories are sitting at the piano with Mickey Gilley himself and watching him play. I went to college on a trumpet scholarship and on a whim in 1989 I auditioned for Steve Stewart and Spirit of the West playing keyboard and the rest is history.  I had the good fortune of playing professionally for over 13 years with Ricochet and Ty Herndon. I have been honored to play in nearly every state and venue imaginable from state fairs and Texas VFW halls right down to the mother church of them all the Grand Ole Opry and Ryman Auditorium in Nashville, TN. My love for music spans from the greats like Stevie Ray Vaughn, Journey, Foreigner, Boston, Loverboy, Glenn Campbell, Steve Wariner, Foster & Lloyd, Skip Ewing, and Terry McBride & the ride. Music is my therapy, and I couldn't be more blessed than to be able to share the stage with a more talented group of guys!
 Happy Trails, Drew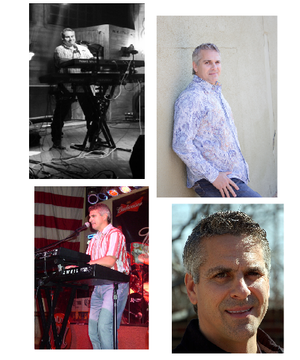 Robbie (Bass Guitar, Harmony Vocals...the Scary Quiet Type)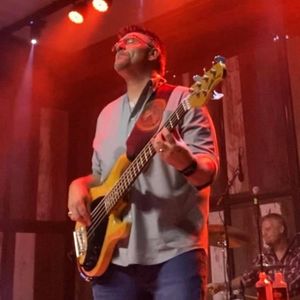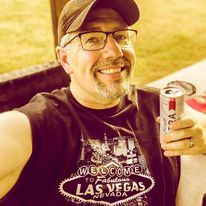 Dave (Drummer, Percussionist...the Professional...well sorta)